Medical Product Design and Manufacturing
From A World Leader in Medical Devices and Diagnostics
Nova Biomedical is a world leader in the development and manufacturing of advanced technology blood testing analyzers and diagnostic products. As the largest privately held in vitro diagnostic company in the U.S., we employ over 1,200 people, including over 125 scientists and engineers, and have sales and service subsidiaries in nine countries and distributors in over 92 other countries. Nova also has 420,000 square feet of development and manufacturing space in facilities in Waltham and Billerica, Massachusetts; and Taipei, Taiwan.
Nova's clients include some of the world's best-known healthcare companies, as well as some of the most innovative newcomers.
Over the past 40+ years, we have built a strong reputation based on leadership in diagnostic technology, engineering excellence, cost-effective manufacturing, and integrity.
Complete, Single Source Partner
From product development to manufacturing, distribution, and field support, and from refurbishment to spare parts management, Nova can provide the entire package or individual functions to supplement a client's internal capabilities. We work with our clients to develop customized strategies, yet maintain the flexibility to respond quickly to changing business needs. Nova's comprehensive staff of design, manufacturing, and test engineers; global supply chain experts; and quality and regulatory specialists can handle almost any client need.
Manufacturing Engineering
Nova uses Manufacturing Engineering as the key constant in all projects. Manufacturing Engineering is assigned to the product development project on day one and stays with the project for the life of the product. There is no handoff from development to manufacturing. There is no redesign for manufacturing effectiveness. There is a seamless transition that is managed by Manufacturing Engineering, which ensures that the product is reliable and cost-effective in manufacturing design.
Dedicated Resources
Nova appoints a dedicated development and manufacturing team to your project. Manufacturing is done through a "focused factory" concept where dedicated staff, space, and equipment are permanently assigned to your project.

Direct End User Experience
Nova is unique among medical equipment contract manufacturers because we have direct sales and service experience with end users of our own products. Our experience is not limited to building products to a contract specification and shipping those products to a warehouse. Since 1978, we have been selling and servicing our own lines of critical care blood analyzers, chemistry analyzers for biotechnology, and handheld point-of-care analyzers directly to hospitals worldwide. We know firsthand the importance of manufacturing, quality, speed, and cost to the commercial success of medical products.
Product Development
Engineering and scientific expertise
Nova's engineering and product development expertise begins with world-class experience in both optical and electrochemical diagnostic technologies for blood chemistry and immunoassay applications. To this we add strong project management with computer-based electronic and electromechanical systems experience. We place particular emphasis on designing for reliability, value, and manufacturing readiness. Key mechanical skills include optics, precision fluid handling, heat transfer mechanisms, plastics, packaging, and industrial design. Electronic skills include both analog and digital circuitry, embedded microprocessors, ESD, and power supplies.
Nova's software engineers are proficient in real-time control, multi-tasking operation, and custom-embedded systems software. All products are designed for worldwide sales and marketing, with appropriate regulatory certifications.
Nova offers component, sub-system, and complete product prototyping via a state-of-the art, parametric solids model CAD/CAM system, a prototype shop, and 3-D printers.
Our engineering and scientific expertise encompasses the following disciplines:
Mechanical engineering
Electrical engineering
Software engineering
Digital imaging
Plastics engineering
Packaging
Test engineering
System integration
Connectivity/integrated data solutions
Analytical chemistry methodologies: Electrochemistry, Flow cytometry, Immunofluorescence, Immunoagglutination, Ellipsometry, Optics, Reagent formulation
Products developed and manufactured
The following is a partial list of products Nova has developed and/or manufactured for our clients:
Electrolyte/chemistry module for a laboratory analyzer
Peritoneal dialysis system
Viral Inactivator for transfused blood
Pharmaceutical compounder
Cardiac and respiratory sufficiency monitor
Immunoassay analyzer (ellipsometry) for physician offices
Immunoassay analyzer (flow cytometry) for hospital laboratories
Noninvasive bilirubin analyzer
Automated immunohistological slide stainer
Urea monitor module for hemodialysis
Blood saver for orthopedic procedures
Corneal topographer
Hospital IV pump
Hemodialyzer components
POC coagulation analyzer
Automated Western Blot analyzer for Lyme, HIV
Chlorine dioxide sterilization system
Portable home IV pump
Erythrocyte sedimentation rate analyzer
Bone healing device
Tissue regeneration system
Proven development methodology
This process flow diagram illustrates Nova's proven methodology for development and manufacturing of more than 100 products over the past 35 years. Nova has secured more than 100 FDA 510(k) clearances for our products and clients.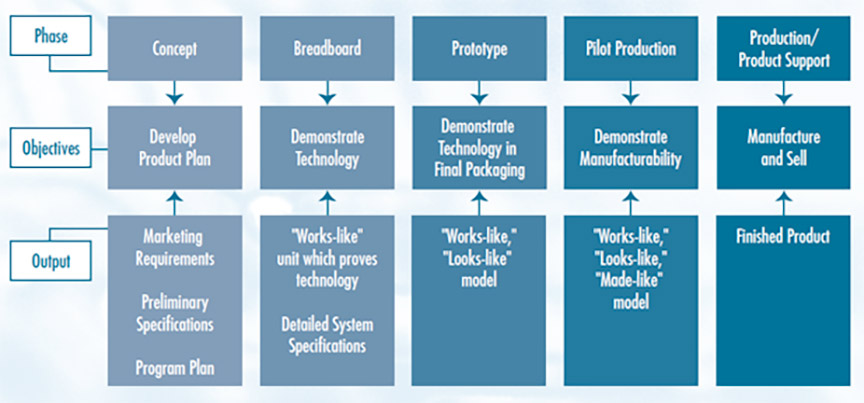 Contract Manufacturing
Manufacturing qualifications
Nova's manufacturing group consists of the personnel and infrastructure to support our manufacturing, engineering, materials, management, quality control/assurance (QA), purchasing, scheduling, and production functions. Our state-of-the-art production facilities incorporate sophisticated manufacturing equipment to provide high quality, reliable products at an agreed upon schedule and price. Key areas of expertise include:
Full printed circuit board capability—both surface mount and through hole boards
Automated reagent mixing, filling, and sealing
Mechanical assembly
Final system assembly and test
Full in-house plastics molding and machine shop
State-of-the-art information systems
Automated manufacturing and packaging of high volume disposables
Intensive quality philosophy
During a development or manufacturing program, our innovative quality control program establishes cross-functional quality teams, including members of our clients' staff, to proactively address quality and operational improvements throughout the duration of each project. This intensive philosophy results in a level of quality that consistently surpasses our clients' expectations.
Continuous quality monitoring
Our standard quality procedures include organization and training, incoming QA, in-process inspection, full system functional testing, and statistical analysis. Importantly, we also form a Product Line Quality Committee (PLQC) for each product that is comprised of Nova and client participants. The PLQC is an oversight group that proactively addresses a wide range of quality and operational issues.
Continuous product improvement
With a goal to improve the quality of each product and reduce its manufacturing cost, Nova provides cost reduction and manufacturing engineering support to each client on an ongoing basis at no addition charge.
Focused factories
In contrast to many contract manufacturers, Nova does not "time share" its production resources. Instead, Nova dedicates manufacturing personnel as well as space and inventory resources to each individual project.
This focused factory approach clearly identifies responsibility and promotes the most effective operation throughout the manufacturing process including: manufacturing management, technical support, production control and planning, quality control, production supervision, and inventory warehouse.
Range of manufacturing capabilities
Among the capabilities that separate Nova from other manufacturers is our ability to accommodate a broad range of projects from simple to complex and low to high volume, including reagents, instrumentation, and disposables.
Our production capabilities range from high volume, low cost products to low volume, high cost products. We have structured our "focused factories" to accommodate this range of product mix.

Open-book pricing
Our unique "open-book" pricing model identifies costs for materials, overhead, labor, and profit associated with the project. This full disclosure policy keeps each client fully appraised of the financial status of a project every step of the way.
Conformité réglementaire
Nova est un fabricant de produits médicaux enregistré par la FDA. Tous les processus de conception et les procédures de fabrication sont conformes aux réglementations du système qualité de la FDA.
Certifié TÜV, Qualité internationale
Nova a obtenu la certification ISO 13485 - une norme de qualité reconnue par plus de 160 pays. L'évolution de Nova Biomedical en accord avec sa philosophie de qualité et la certification ISO 13485 exige que l'entreprise développe, documente et implémente efficacement des systèmes de qualité complets, pour la recherche et développement, la fabrication, la livraison et le support client.
Nova a également obtenu la certification MDSAP qui confirme que Nova Biomedical est conforme à toutes les exigences réglementaires canadiennes, japonaises, brésiliennes, australiennes et américaines relatives aux dispositifs médicaux.
Support Technique International
Le support technique américain Nova se compose de plus de 40 ingénieurs terrain. Un support technique direct est aussi disponible au Benelux, au Brésil, au Canada, en France, en Allemagne, au Japon, en Italie, en Espagne, en Suisse et au Royaume-Uni.
Our Clients

We're known by the company we keep. Nova's clients include some of the world's best-known healthcare companies, as well as some of the most innovative newcomers.