Stat Profile® pHOx® Series*
Critical Care Blood Gas Analyzer
Using a unique combination of advanced optical and electrode technology, the Stat Profile pHOx analyzer series offers essential blood gas and critical care test menus in a compact analyzer. The three-test Stat Profile pHOx Basic offers the standard blood gas profile of pH, PCO2, and PO2. The six-test Stat Profile pHOx menu adds measured hematocrit, hemoglobin, and oxygen saturation to provide a complete picture of respiratory status.
Stat Profile pHOx Plus adds glucose, sodium, potassium, and a choice of chloride or ionized calcium, resulting in an ideal critical care menu in a small, space-saving instrument. Stat Profile pHOx Plus C offers both chloride and ionized calcium. Stat Profile pHOx Plus L menu includes lactate.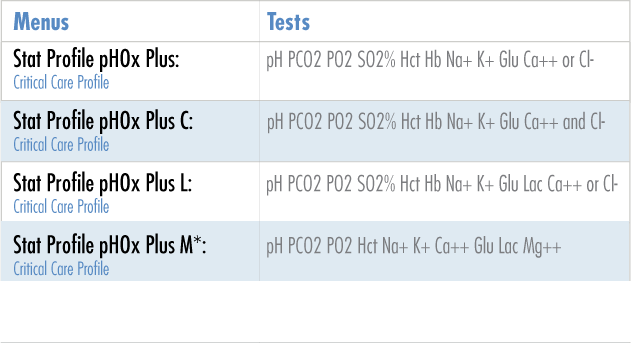 Small Size, Big Output
Stat Profile pHOx analyzers measure only 12" wide x 12" deep x 15" high, and are light enough for easy transport on a compact cart. These analyzers carry enough on-board reagents to perform 7500 tests and contain a full month's supply of controls.
All Liquid Calibration System
A liquid-only calibration system eliminates bulky gas tanks, gas regulators, gas tubing lines, and humidifiers. The integrated gas and reagent package system replaces up to five individual reagent bottles and two gas tanks with a simple, snap-in reagent cartridge containing all calibrators. The single reagent cartridge also eliminates the need to maintain logs and run both calibration and QC procedures each time a reagent needs to be replaced.

On-Board, Automated Cartridge QC
Nova's auto-cartridge QC is a completely automated QC system contained within a single on-board control cartridge. This unique system combines multiple levels of true controls and dedicated software allowing any level of QC to be run at any time - either on a pre-programmed schedule or on demand. This system dramatically lowers costs by reducing the time and labor required to manually perform QC.
Small Sample Volume
Blood conservation is an important initiative in every critical care department, especially the NICU. Stat Profile pHOx analyzer sample volumes are among the smallest in the industry.

Fast Stat Results
All test results from Stat Profile pHOx analyzers are available in less than a minute.

Adapts to Capillary or Syringe Use
The Stat Profile pHOx sampler is designed for fast, easy use and operator safety using syringe or capillary tubes. For samples in syringes, the sampling probe automatically positions itself at the optimal angle. For capillary tube samples, the sampler automatically presents a universal capillary sampling port in a horizontal position to prevent spillage or dripping.
Mobile Cart
Stat Profile pHOx analyzers weigh less than 20 pounds (9 kg) and are easily transported on the optional pHOx Cart with an uninterruptible power supply (UPS).
* Stat Profile pHOx analyzers are not available in the U.S. or Canada
Specifications current as of revision date.